TRIMS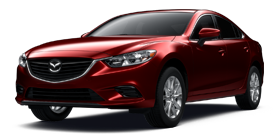 2014 MAZDA6 SPORT
STARTING AT MSRP: $20,880*
VEHICLE OVERVIEW:
2.5L SKYACTIV®-G engine
6-speed SKYACTIV®-MT or available 6-speed SKYACTIV®-Drive Sport AT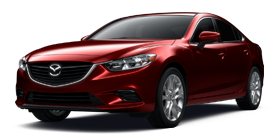 2014 MAZDA6 TOURING
STARTING AT MSRP: $24,495*
VEHICLE OVERVIEW:
2.5L SKYACTIV®-G engine
6-speed SKYACTIV®-Drive Sport AT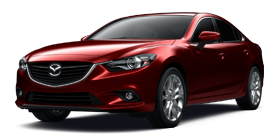 2014 MAZDA6 GRAND TOURING
STARTING AT MSRP: $29,495*
VEHICLE OVERVIEW:
2.5L SKYACTIV®-G engine
6-speed SKYACTIV®-Drive Sport AT

---
STYLE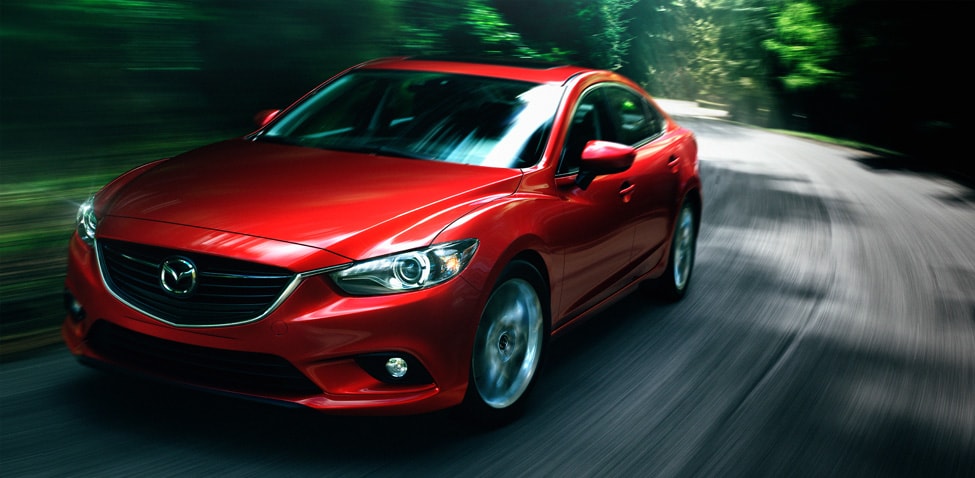 Performance has never looked so obvious
A near direct translation from the world-renowned Takeri concept, this all-new sports sedan was sculpted with Mazda's KODO "soul of motion" design language for a careful balance of elegance, aggression and air flow. Each Robust curve and wide fender was meticulously sculpted to minimize wind resistance while maximizing ease of handling. With the lowest coefficient of drag in its class, Mazda6 can slip through the wind with more grace than even a Lamborghini Aventador.
But aerodynamic sculpting is only the beginning of KODO expression. To capture the intensity of the Takeri concept car, Mazda designers labored over the deep, vibrant color they named Soul Red. Then rejecting the notion that Concours-quality paint couldn't be offered on a mass production model, they introduced a new three-step painting process-two steps more elaborate than most automakers-to bring a red unlike any other to the Mazda6.
Then they turned to the wheels. It's a general truth that the more stylish the wheel, the less it will perform. but Mazda engineers, with absolute determination, tested and refined over 20 designs until they developed those now worn exclusively by Mazda6. The impressive 17-and 19-inch ally profiles were designed with symmetrical contours and dynamic motion, yet engineered with a greater resistance to twisting forces and deformation. They're wheels that look, handle and wear better. Like the technology above them, they perform.
Together, these facets of the Mazda6 KODO language prove that beauty really is more than skin deep. This is the benchmark for those sports sedans found wanting.
PERFORMANCE


RPM. BPM. In Tune.
Mazda's emblem earns its reputation for performance from its cars, not the other way around. So don't be surprised when Mazda6 breaks all of the rules convention holds true for four-door automobiles. Through innovative ground-up engineering, available i-ELOOP regenerative braking and SKYACTIV
®
TECHNOLOGY, Mazda engineers made fuel efficiency integral to performance


DRIVETRAIN
The new 2.5L SKYACTIV®-G gasoline engine takes the technology of its 2.0L predecessor and pushes the boundaries of innovation even further. Mazda engineers increased its torque output to 185 lb-ft, which means you'll get more power transferred to your wheels for significantly better performance?all without compromising fuel efficiency. Combine it with the ultra-responsive 6-speed SKYACTIV®-MT manual or the smooth 6-speed SKYACTIV®-Drive Sport automatic transmission, and you'll truly understand Mazda's philosophy of "car and driver as one."
But Mazda engineers knew they could still do more, and they saw potential in the dark horse known as the diesel engine. Rather than accepting the necessity of expensive and inconvenient aftermarket treatments and compromised performance, they engineered the SKYACTIV®-D clean diesel engine. By giving it a surprisingly low compression ratio, Mazda engineers were able to optimize combustion timing to increase efficiency, minimize soot formation and even reduce the engine's weight and mechanical friction. As a result, this 2.2L clean diesel engine cranks out the torque of a V8 engine with low emissions and the efficiency of a hybrid.
I-ELOOP
And yet, Mazda engineers still weren't satisfied. They set their sights on the 10% of horsepower lost to powering sound systems, headlights and other electrical features. They developed technology called i-ELOOP that captures energy generated when braking. But unlike other less efficient systems that use a battery, they engineered one of the world's first regenerative braking systems to use a capacitor to store recaptured energy. As a result, more of the engine's horsepower can be focused on moving the wheels, not the wiper blades, resulting in a more powerful, more efficient automobile.
CHASSIS & SUSPENSION
Handling is no small part of performance. It's the experience behind the wheel?the thread of communication between car, driver and road. This is at the core of Mazda's DNA, and that brisk feeling of responsiveness starts with the independent rear multilink suspension. It may be the best suspension in the automotive world, and when paired with the independent MacPherson strut front suspension and stabilizer bars, you get the perfect mixture of control, response and thrill.
From body to engine to transmission to its intuitive suspension, each and every component works together seamlessly to deliver pulse-pounding flat-cornering exhilaration that's sure to leave an impression on its body-hugging driver's seat. But who can tell when you refuse to leave it?